Hi Everyone,
I'm pleased to announce that AF Francisco accepted our onboarding quote today and will be joining Oncord over the next few months.
Please see below updates that we made over the past month.

Private Courses - Hours Transfer
Added the ability to transfer hours from one private tuition course to another.
Open the private course, right click the invoice and select "Transfer Hours to Other Private Course"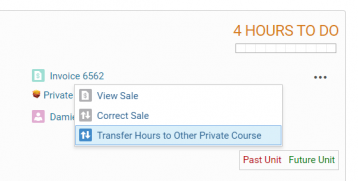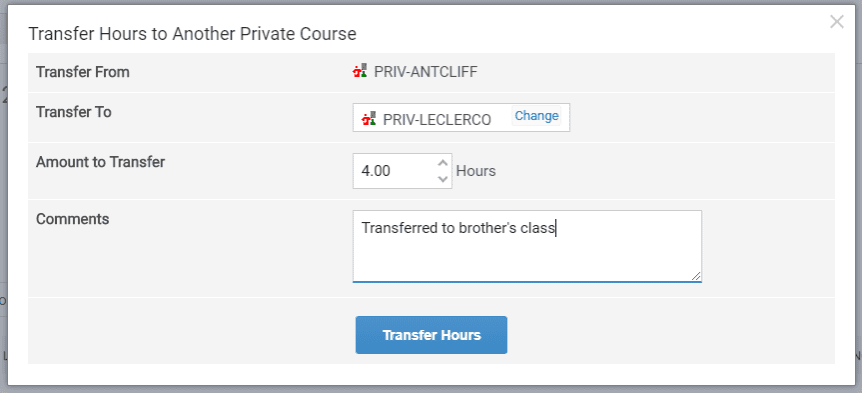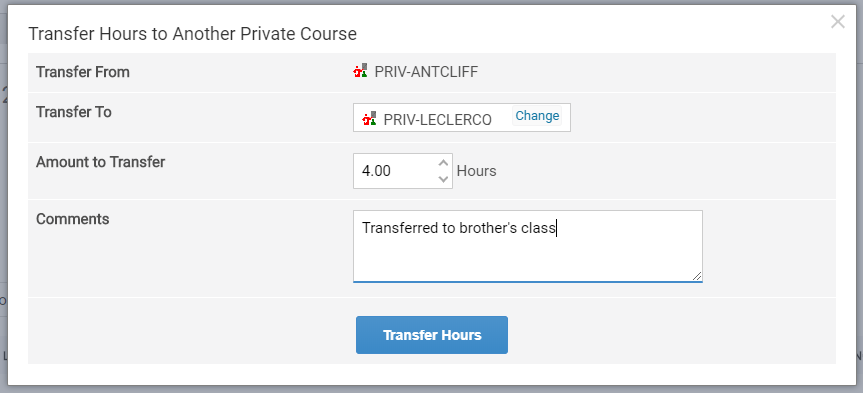 The transfer will create a zero-dollar invoice with the notes of the transfer. The hours will be reallocated to the selected course.
Private Courses - Adjustments - Add Private Course Information
When making a correction, you can now directly add information about a private course. Previously to do this, you needed to perform an adjustment, removing the item and creating credit on the customer. Then in a second step, create a whole new invoice to add the private tuition package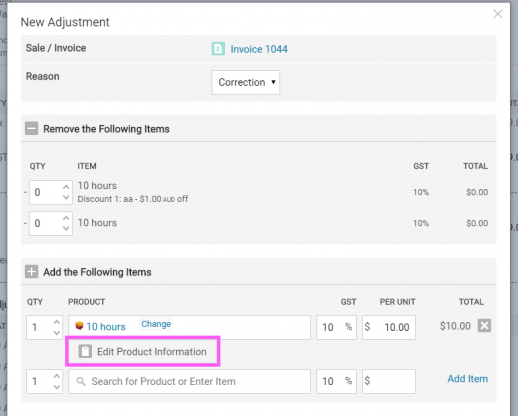 Private Courses - Fixed Generated Course Name When Selling to Companies
Fixed bug where the private course did not have a name when selling to a contact of type "Company". Reported by AF Amsterdam
Private Course Notifications - Bug Emails Notifications for Cancelled
Fixed a bug where the notification email would be sent for 'no remaining hours' after an adjustment is made to cancel a private course.
Teachers Worked Hours - Time Zone Fix
There was a bug in the worked hours report that caused hours to be misreported due to the dates being filtered against UTC time. This is fixed to now report hours in local time. Reported by AF Adelaide
Teachers UI - Updated Filters
Before, the user interface was written with very old coding standards and the filters would wrap and became very difficult to use. The interface has been rewritten and modernised.




Courses - Activity Feed
Students who have enrolled in more than 25 courses ceased to show their enrolments in the contact activity feed. This is now fixed to show an unlimited number. Reported by AF Brisbane

Private Courses - Billing Address Link
Fixed Bug: When we add a private tuition item in a manual sale, if we try to use the "billing address" in the additional info, it cleared out the sale. Reported by AF Brisbane

Events - Restrict Quantity When Ordered via Cart
Fixed: Recurring bug where customers were able to order event tickets via the shopping cart greater than the restricted remaining capacity of the event. Reported by AF Melbourne

Library - View Documents Belonging to a Category
Added ability to view documents for a category from within the categories screen. Requested by AF Brisbane

Library - Added All 'Linked Entities' to Document Edit and Document Import
Added ability to edit any custom linked entity specified in the configuration to the document edit screen, and the document import tool.

Library - Overdue when Borrowing Warning
Added a warning to the 'Borrow' screen for contacts who have overdue borrowings.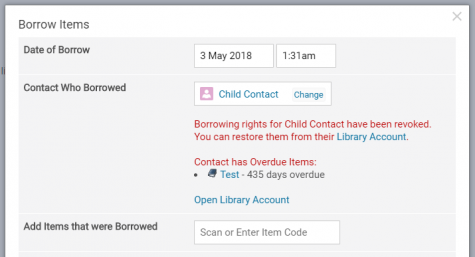 Memberships - Show Invoice
Added the Invoice number and link to be displayed the table of memberships. This was to help diagnose an issue with expiry dates for AF Sydney.

Course Email to Customers - Fixed Attachment Missing Issue
When sending an email to customers, attachments were not being included when the course code included a slash character. Reported by AF Amsterdam

Scheduler Fixes
The task scheduler for Oncord was not initially designed for large numbers of scheduled tasks to be running at once. With library notifications, private course reminders, accounting software integration syncing, and other tasks all running at once, it became overloaded. Under some conditions, tasks had entirely stopped running.
We've rewritten this to handle more tasks and added monitoring to ensure that tasks always run.

We ran a script recently across all the AFs which might have triggered some unwanted notifications on old private tuitions that had never ran in the past. Sorry if that caused you inconvenience.