The second milestone of the course conditions has been released. This feature will require an additional development that will be taken care of at a later time. More information on this at the end of the post.
Groups
Some system groups were now redundant with the newly implemented conditions, and have been removed. This update should also provide a slight performance increase.
What has been removed
All the course group hierarchies
The "Registration Fees" and "AF Members" groups
The page allowing finding of re-enrolling students
The page allowing finding of expiring memberships
For all the above groups and pages removed, you can now use a condition or a set of conditions to obtain the same information.
Expiring Memberships
The page allows finding of expiring memberships has been removed in favor of a new automation event and condition.
Event
An automation event has been implemented for memberships expiring in a specific number of days. Automation events trigger when the condition is met, and then proceed to execute the associated automation worklow. In this case, you might want to have customers receive an email indicating that their membership is about to expire and that they should renew via the link included in the email. When editing an automation based on this event and selecting the action "Send an e-mail", if you click on "New Message", a new message will be created using a basic template for this use case (you should customise it).
Condition
A condition for expiring memberships has also been implemented. It allows selection of customers who have bought a membership which is about to expire. As for the other previously implemented conditions, this can used in Discounts, Email Marketing, SMS Marketing, etc.
New Visuals
In the admin and the teacher portal course lists, progress bars for the columns 'Hours' and 'Occupancy' have been added, resulting in a much more visual experience.
In the course lists, hovering over the progress bars will provide additional information.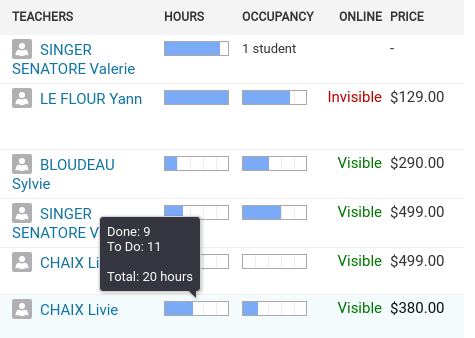 Similar progress bars have been added when editing courses.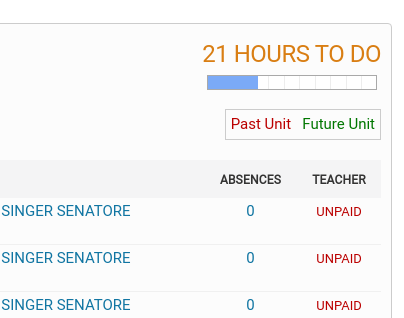 Postponed Developments
Library Import
Key people at AF Melbourne being absent in August, it has been decided to postpone the Koha library import to September.
Course related product categories
There is more complexity than anticipated regarding the removal of the course related product categories (MYOB related). Thus, we are postponing this development until we decide on the best course of action, and find a proper solution. In the mean time, please avoid using them, as they will still eventually be removed - or at the very least the hierarchy structure will change. The newly implemented conditions are the way forward.
Coming Next
The Koha import will have to wait until September. In the mean time, I will work on an item called "Overall System Performance Improvements". It entails to inspection of all AF system pages, fixing of any UI bug and elimination of resource hogs within the AF module.