We've responded to a lot of support tickets, fixed a lot of bugs and made many feature improvements to the AF module.
Alliance Francaise de Hong Kong have agreed to join Oncord. Per our agreement, their turnover should increase the net turnover of all Alliance Francaise using Oncord into the next bracket, reducing the fee from 1% to 0.9%.
I also took the opportunity to visit AF Sydney. It became apparent that some users are not receiving these newsletters. If there is someone in your organisation that should be receiving these, please subscribe them here.
Here are some of the updates we've done over the past two months:
Course Enrollment Statistics - Private Course Location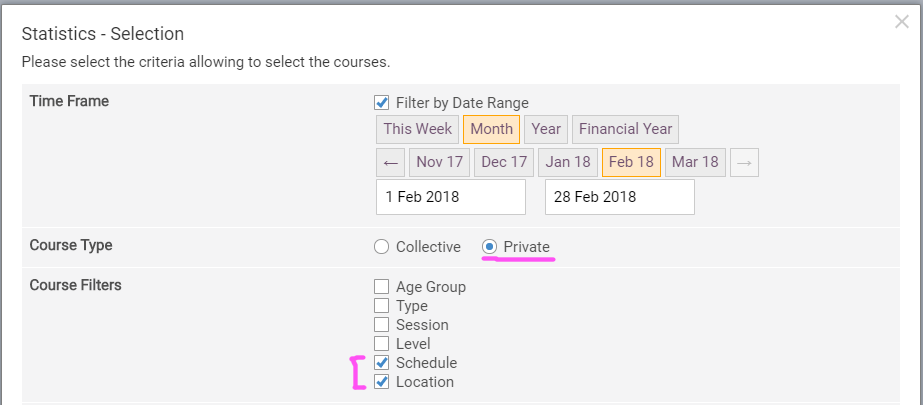 Edit Course - Added Support for Decimals in Course Total Hours
Previously, there was a limitation that forced whole numbers to be set on the total number of hours. This has been resolved and you can now set partial hours.


Edit Course - Major Performance Improvements
On large AF databases, some interactions when editing a course (adding units, etc) would take several seconds to load each interaction. This has been improved to give consistent performance with large databases.
Adjustments - Added Ability to Set Price on Added Items
When performing a correction, previously you could not specify the price of the corrected item. Instead, you were forced to add a custom item with a negative amount to give a discount. For AFs who are integrated with MYOB, this feature will reduce the number of generic discount items.
Private Tuition Bug Fix
Previously the schedule of hours was fully deleted when an adjustment occurred to hours bought. Eg - Bought 10 hours package, Remove 10 hours package, add 5 hours package. Now it reduces the quantity of hours if there are configured units or if there is a partial quantity reversal.
Manual Sales - List Coupons
Based on feedback from AF Sydney reception. When coupons were added that are not applicable to products in the cart, the system would do nothing and behave like the coupon was not added. This was confusing and felt like a bug. Now there is a list of coupons that have been added to the order with the option to remove them.

Edit Schedule - Restrict to Days
The user interface for schedules has been improved. Now you must select the days first, and the dates pickers automatically restrict to those days. Some users were creating schedules with start / end dates different to the days, which would be shown on the course selector.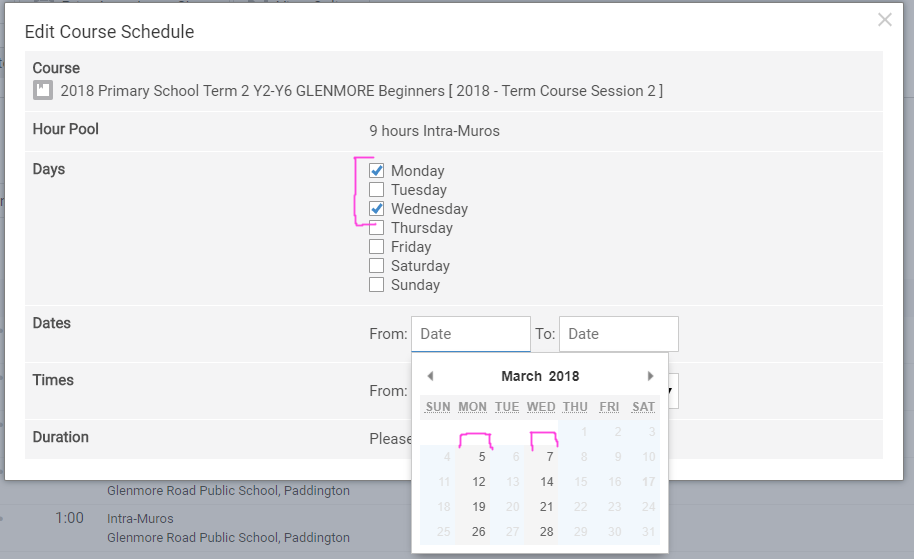 Library CSV Import Tool
To enable some AFs to use the library feature, we have been requested the ability to bulk-import spreadsheets of documents into the library.

It includes a wizard where you can select where the spreadsheet of documents will be imported into.


Preview prior to importing...




Then complete the import.

New Editor
In the core Oncord platform, we are preparing for the release of our new HTML editor. This is a big change that will make editing your website and email marketing campaigns much easier.
Cheers,
Scott McNaught