June 2019 Updates
We're excited to inform you of our latest updates.
Course Product Archiving (Soft Deletes)
Searching for products in the New / Manual Sale screen was previously slow and showed results of older courses. To make searching faster and more accurate, we've implemented automatic product archiving.
The system will now automatically archive products of courses as when they are finished.
The archived products are found on the changes page of the system and can be restored anytime whenever necessary.
When products are archived, statistical reports will not be affected, and the integration with MYOB and Xero will retain the correct sync settings.

New & Improved Contact Filters
The contact's filter by condition is made more powerful with the addition of 2 new filter conditions from the AF module.

1. Library - Borrowed Items (a filter condition to get contacts who borrowed library items)
2. Enrollments - Absent in a course (a filter condition to get contacts who are absent in different courses)
Also, in the enrollments condition you have now the option to select courses by day of the week or search for a specific course.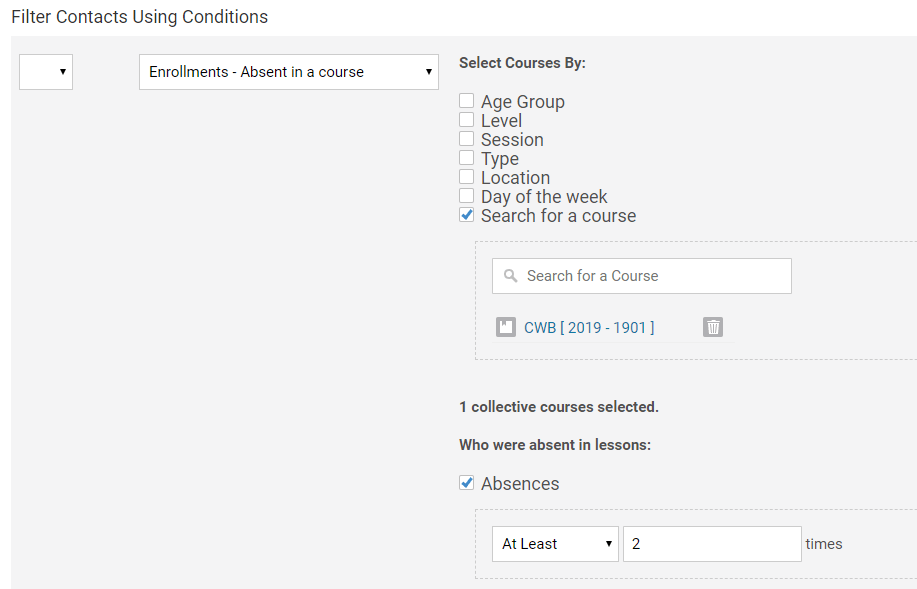 Improvements
COURSES
1. Added clearer warning texts for courses that doesn't have a unit and location created yet.
1. When a contact_middle_name custom field is created for contacts, it will be automatically displayed in the course attendance sheet.
PRIVATE COURSES
1. Locations for private courses are now displayed in the table.
TIMETABLE
1. Improved printing display (recommended: Landscape layout and no margin)
2. Added timetable date picker on teacher's portal


Other Changes

COURSES
1. Fixed performance issue when saving in courses configuration.
2. Fixed occupancy count and course enrollment count when cloning a course.
3. Fixed issue where location is not displaying properly on table.
4. Fixed display of schedules and units in the course selector.
5. Fixed issue where course end date is not updated when deleting a unit.
PRIVATE COURSES
1. Fixed issue where warning message about session is displayed for private courses.
2. Fixed filtering issue and display of private courses packages.
MEMBERSHIPS
1. Added 'membership is valid at date' checks in the system
Various other bug fixes and improvements.
Regards,
Scott McNaught