AF Updates and New Features

It's been super busy year so far here at Oncord. We have released some new features for the AF Student Portal, a new visual design for the Library, a help articles area on the AF Oncord website, along with a bunch of other cool updates and fixes along the way. Check out more details on these updates below.
In this update:

AF Student Portal
There have been a number of new features and improves implemented for the Student Portal.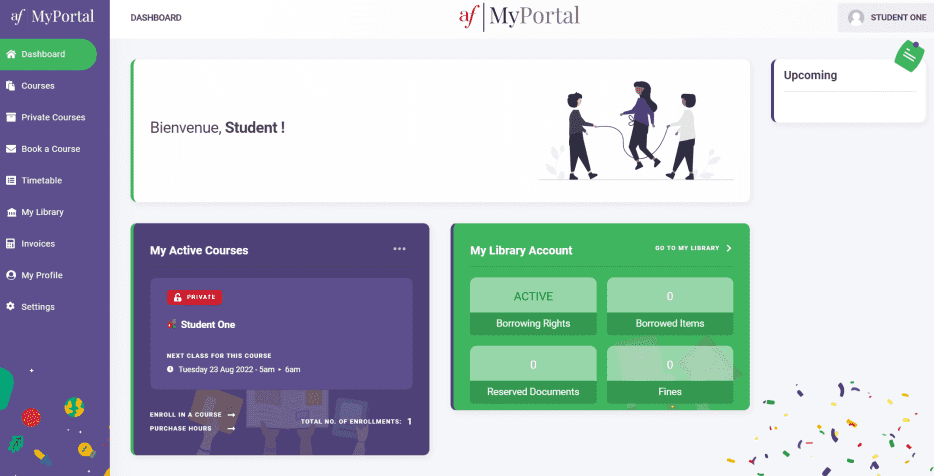 New Pages
3 new pages have been added. Dashboard with widgets, Library and Settings.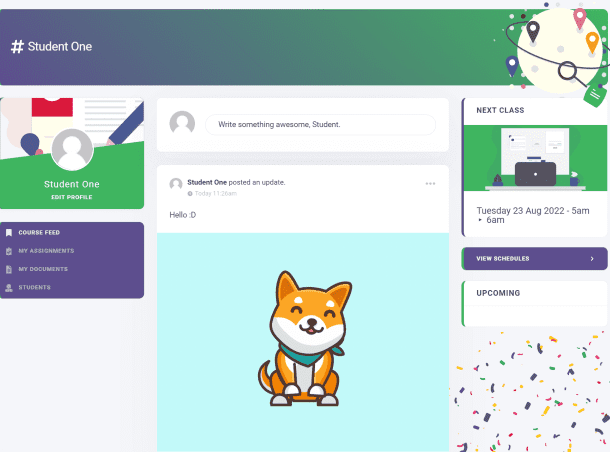 Private Courses
Private Courses now have their own course feed.

Adding Logo
You can add your own logo that will display in the header area of the AF Student Portal.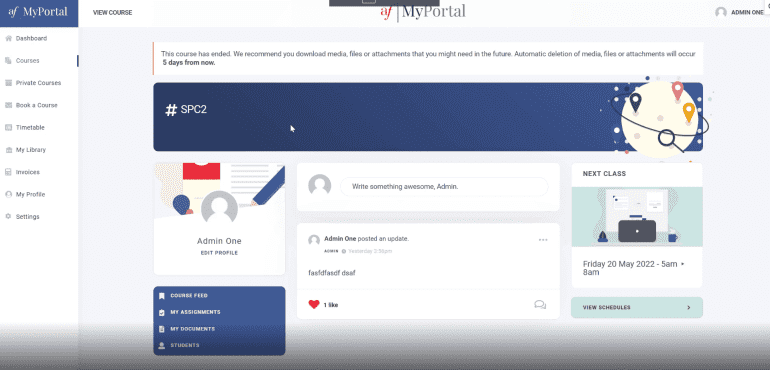 View as Student
You can now view a course as a student.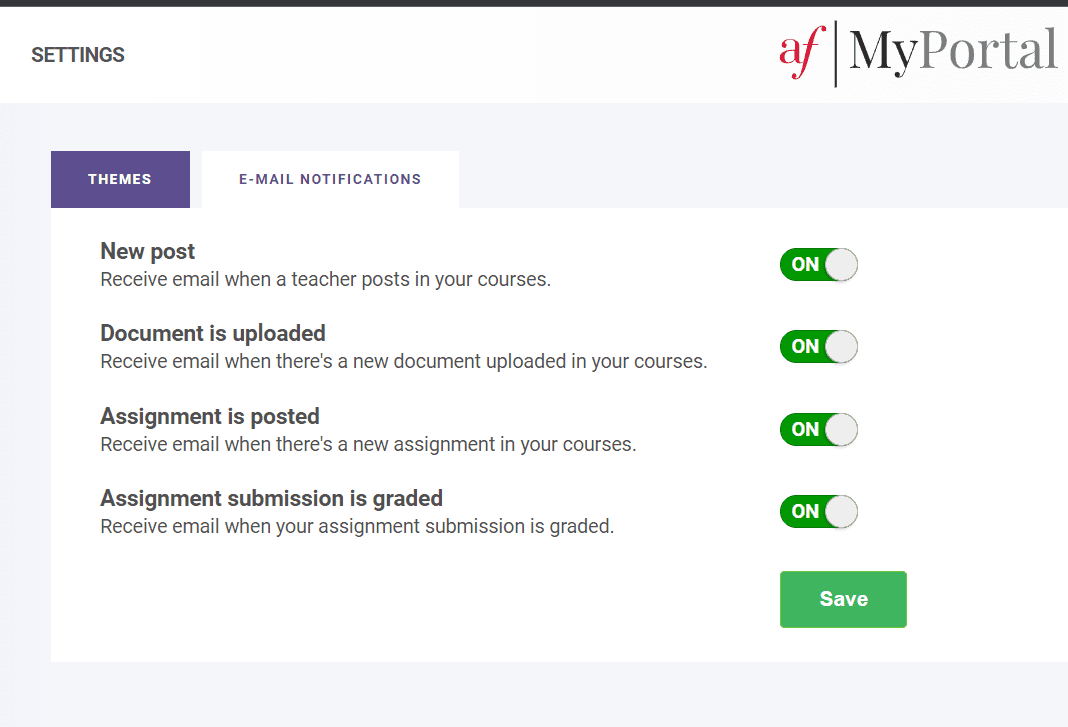 Student Email Notifications
The Student Portal can send email notifications to students of a course on and after the start date of the course when specific events/activities happen on a course.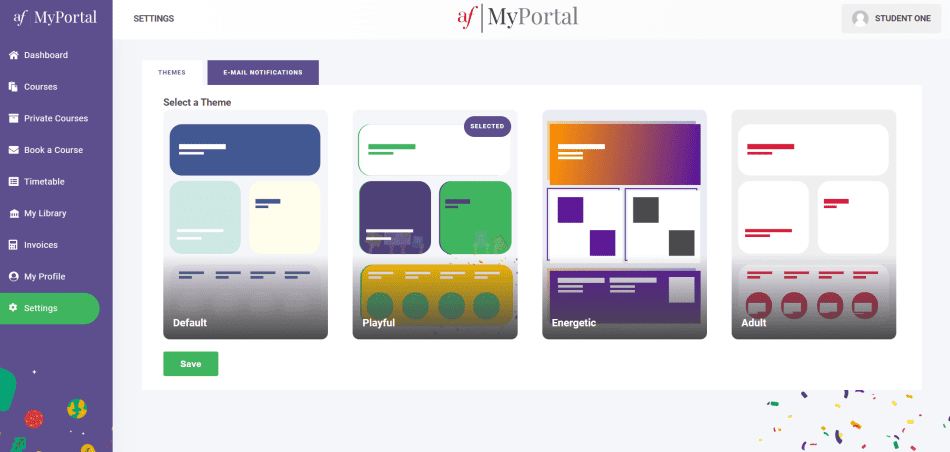 Themes
Students are now able to select from the 3 themes available to change the feel of their student portal view.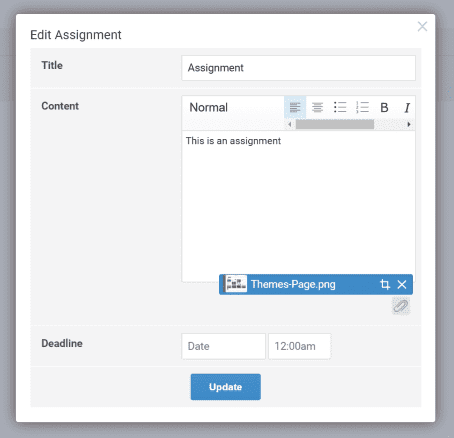 Assignment Attachments
Added the ability to update assignment attachments.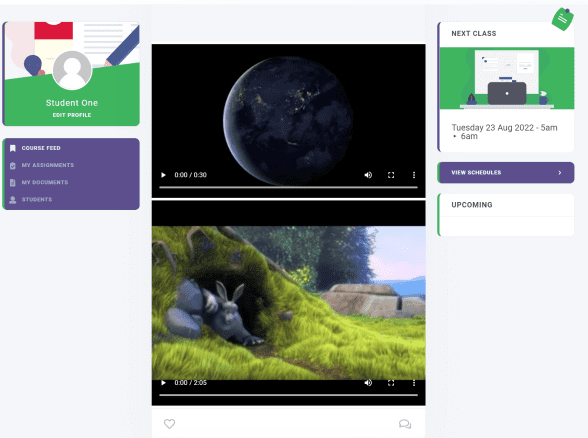 Videos on Course Posts
Improved how videos are displayed on a course post.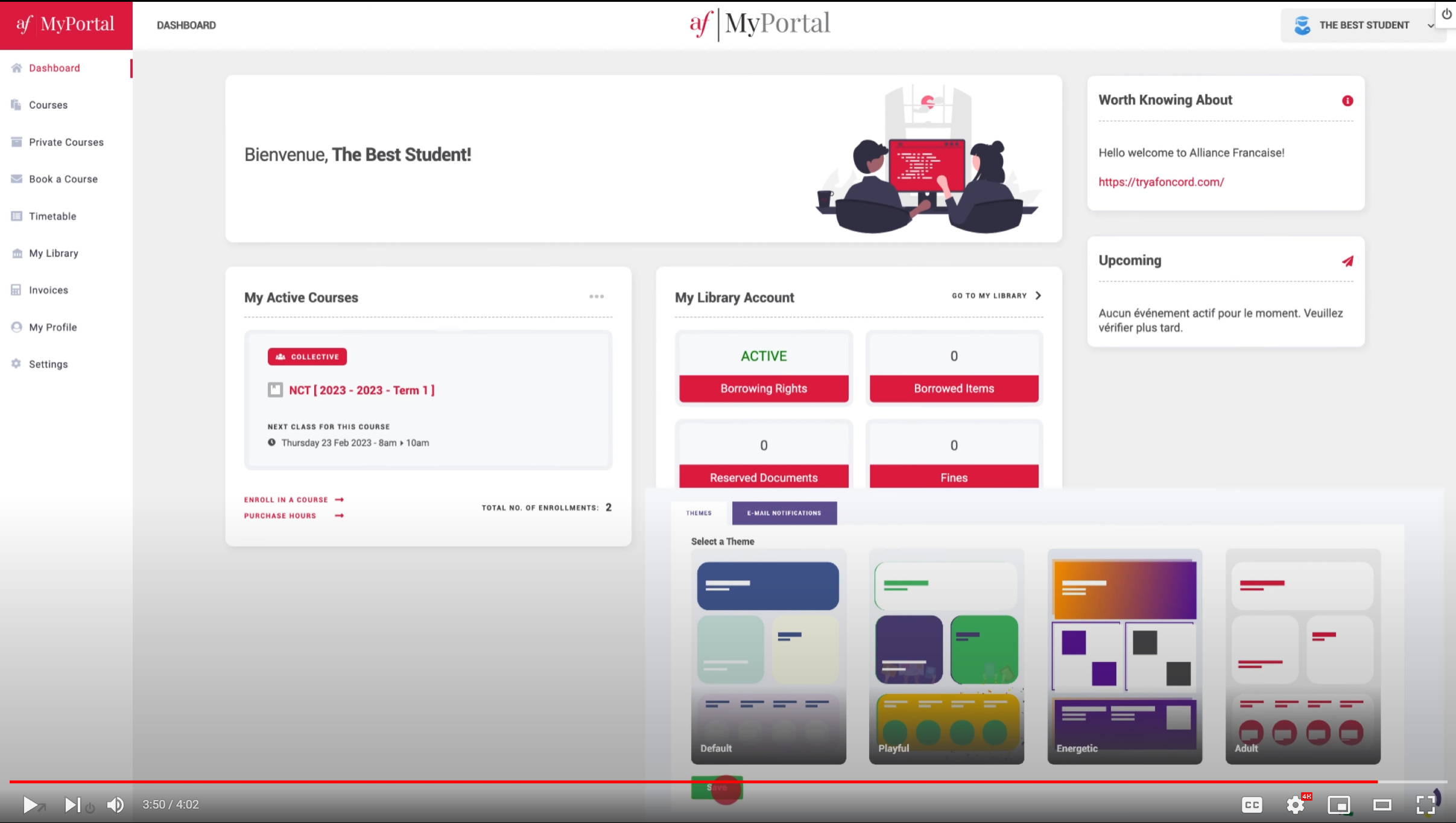 New Student Portal Walkthrough Video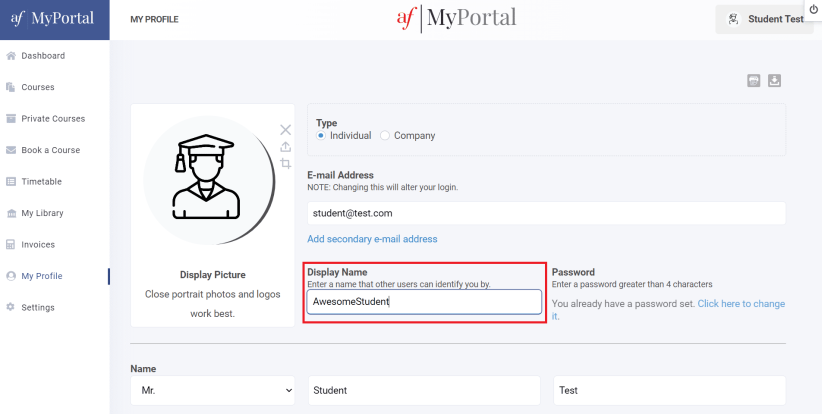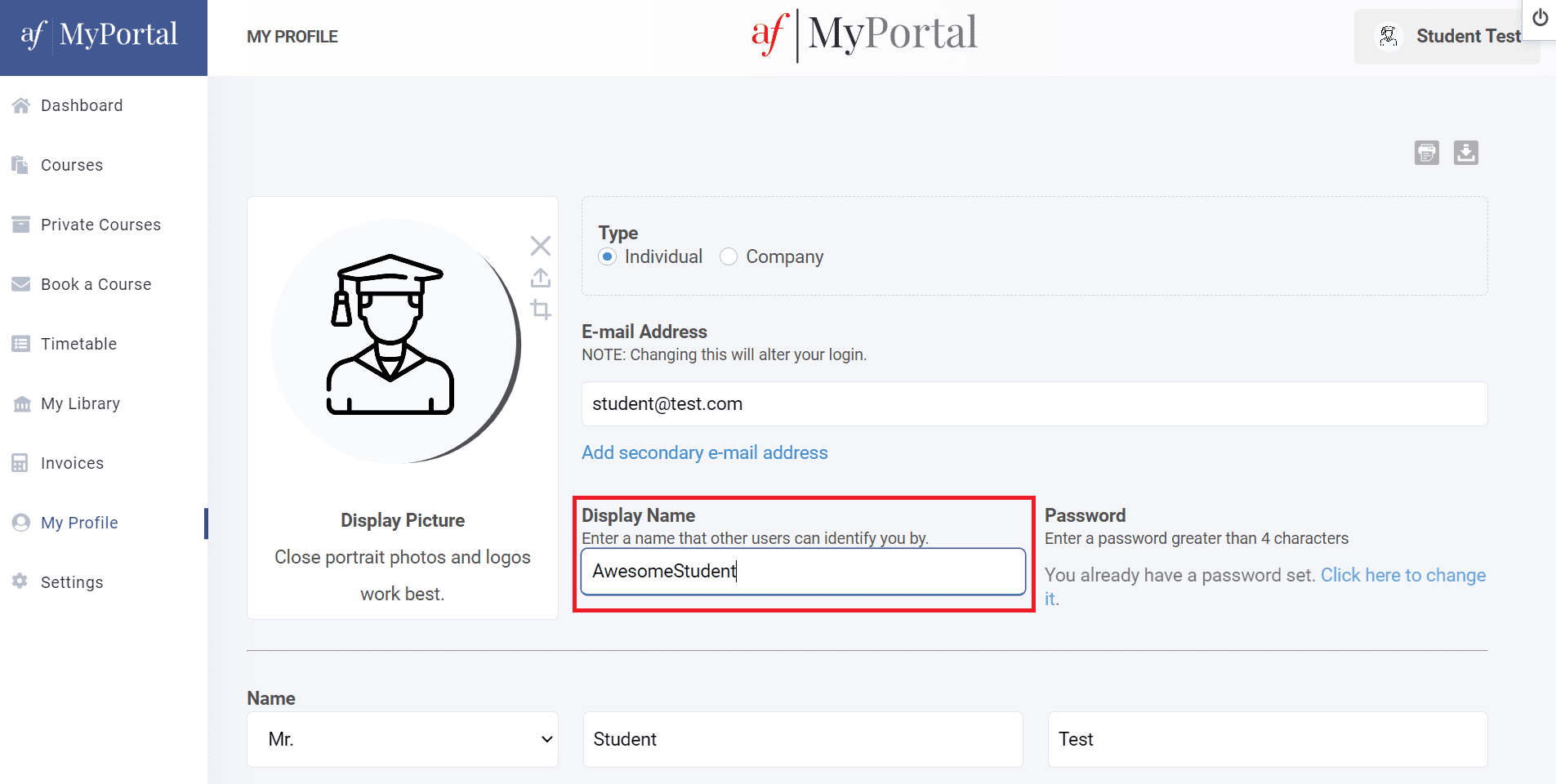 Using a Display Name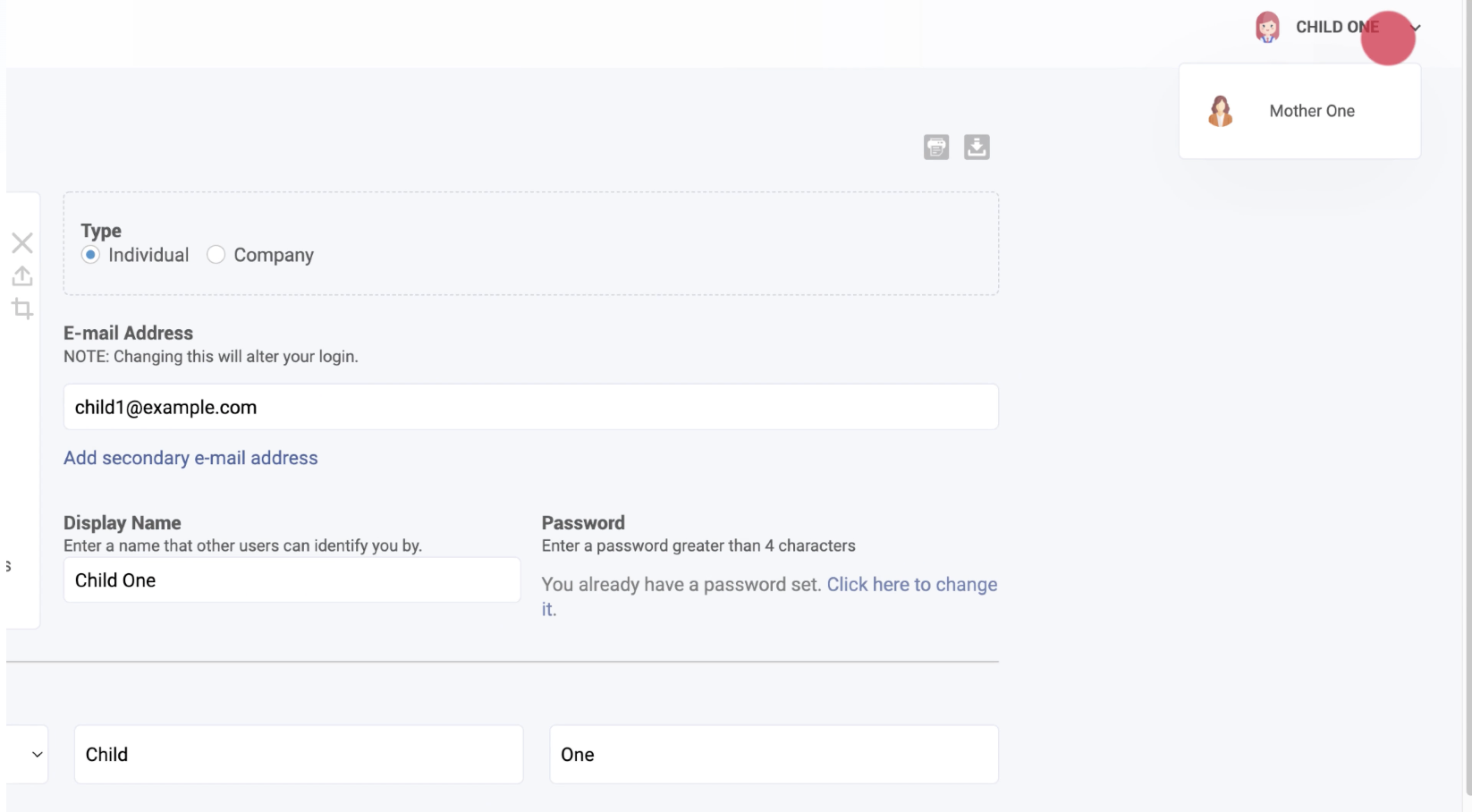 Account Switching
Account switching now works with Grandparent, Parent or Guardian relationships even when emails do not match.
New Certificate Template Designs

• Fields have been re-arranged when editing a certificate template. Heading, content and footer sections have been added for easy management.
• Added 2 new styles; kids 2 and adults 2.
• Added the ability to edit title heading and sub-heading.
• Added the ability to define a default email when sending the certificate.
Go to Courses > Configuration > Certificate Templates to check them out.


VIEW ARTICLE VIEW ARTICLE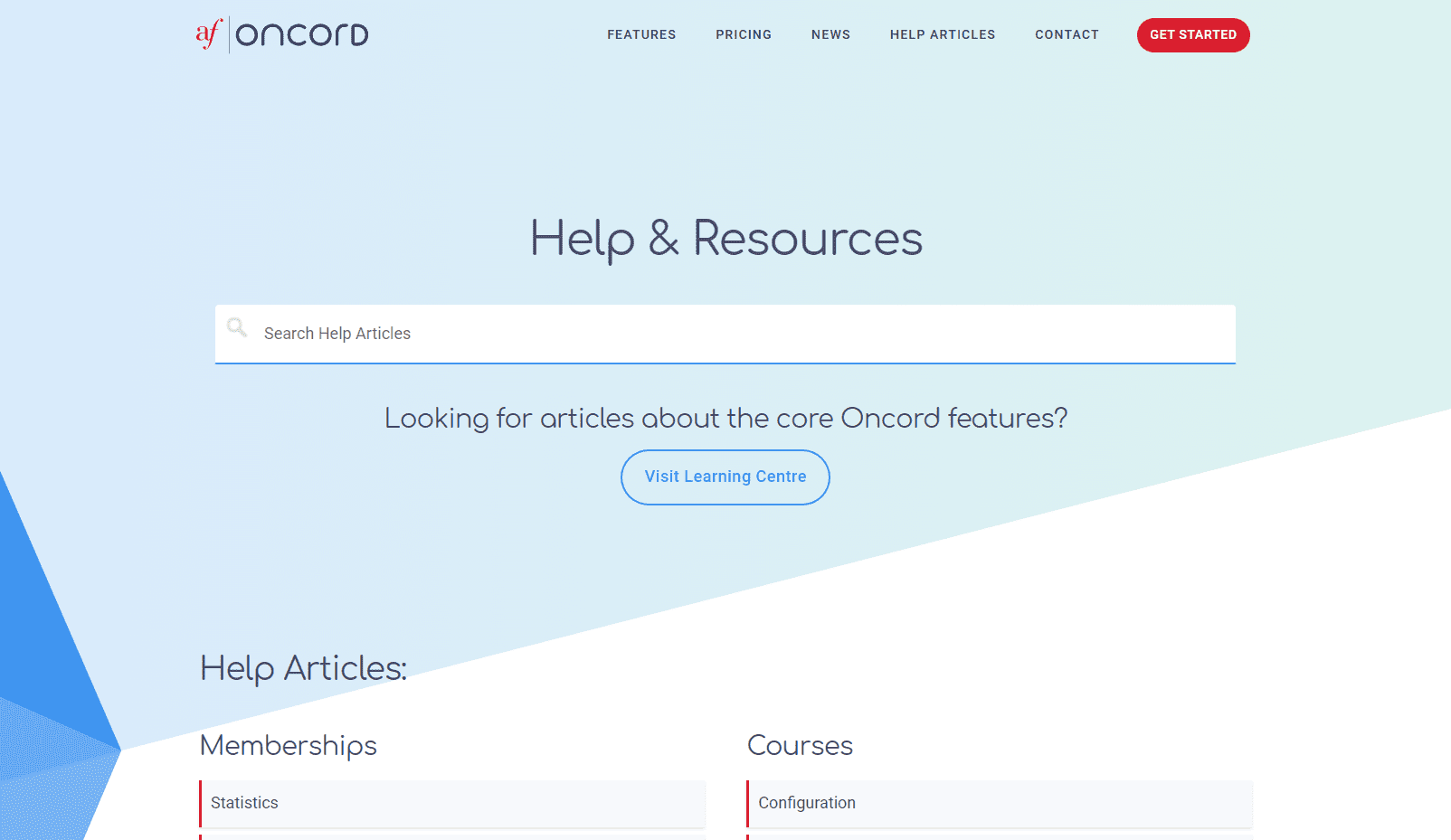 New Website with AF Help Articles
We have launched a new website for AF Oncord with a Help Articles Centre. These help articles provide information and how to's on each of the AF Modules.
Whether you're new to Oncord or need a point of reference on a particular module, we are confident that this new area of the website will come in quite handy.
We will progressively add new articles to this area of the website to continually improve the resources and information available on using the AF modules for the AF community.


Explore Help Articles Explore Help Articles


Course Selector Updates
A number of improvements have been implemented for the course selector.

Filter Sorting
Filter buttons can now be sorted (Drag and Drop).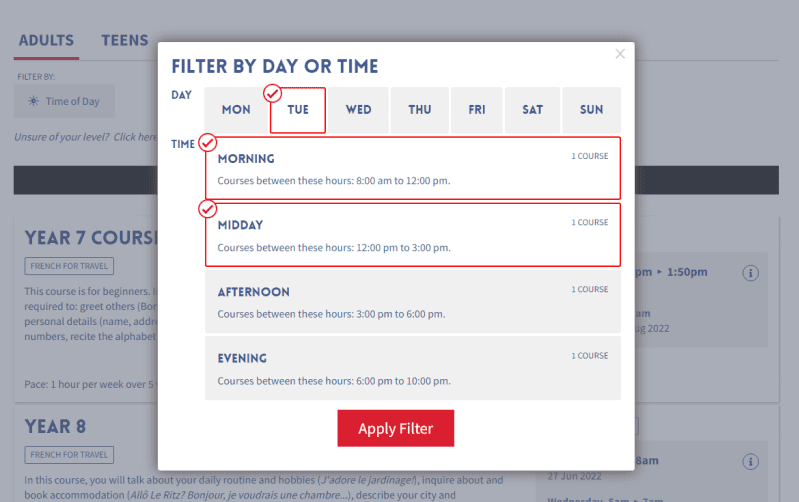 New Filters
New filter buttons for 'Time of Day' and 'Age Group'.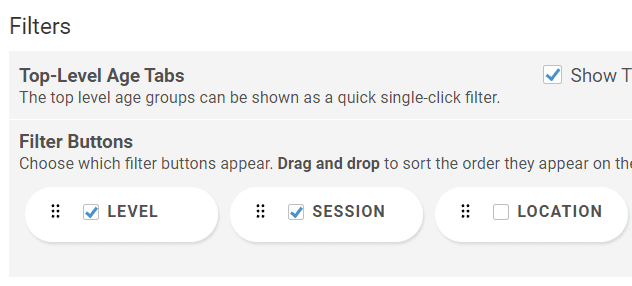 Filter Display Settings
You can now toggle a filter on/off from displaying in the course selector.

Parent Level Selection in Filter
Parent levels that have sub levels are now selectable in the course selector filter.
This allows users to filter the course selector to show all courses that sit under that parent level.

Hidden in Course Selector
New "Hidden in course selector" checkbox on course edit page.
This hides the course from being displayed in the course selector on the website. However the course is still "online" and purchasable if customers are sent the direct link or for processing manual sales.
Membership Optional Setting
New membership optional setting on courses 'Show membership options, but not required'.
This gives users the option to add a membership to their order without it being required to complete the purchase.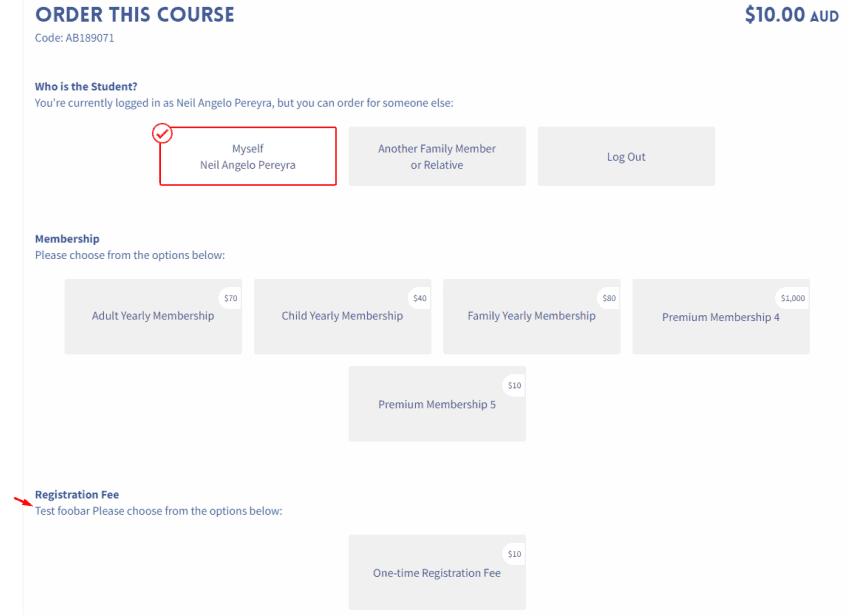 Registration Fee Label

You can now configure the label for registration fees.
This setting can be found in Courses > Course Configuration > Course Selector.
Other Updates
Location in link builder.
Discounts now display.
Reduced font size of top level tabs on mobile.
Option for no course text.
Library
• Linked individuals such as actors or directors are now displayed on the public library catalogue.
• Redesigned the Online Catalogue page with two new views: thumbnail and detailed version
• Updated the Filter/Search functionality
• Added the ability to sort the result by title or published year
• Mobile-friendly and responsive new design


Recurring Memberships
Memberships can now be set to automatically renew, issue a sales invoice, charge their card (if one is set and you have a payment provider that supports recurring billing) and email the invoice to the contact.
See the full article which will walk you through how to activate and use the recurring memberships feature on your website.


VIEW ARTICLE VIEW ARTICLE
New Private Course Automations
Two new private course automations have been added that gives you more power on how to respond to specific events that happen in your private course. These new automations are the following:
1. Renewal Reminder
2. Upcoming Private Lesson Reminder


VIEW ARTICLE VIEW ARTICLE
Private Course Class Rescheduling
Students can now reschedule a unit based on teacher availability. For a complete guide click the view article link below.


VIEW ARTICLE VIEW ARTICLE
Apolearn
Added option to automatically set teacher user type when creating an Apolearn user from an Oncord contact.
Icons grey when inactive for a course.
Other Notable Updates
There are a number of other notable updates we have introduced over the past few months.
• Added "restore" feature when the product associated with a course has been deleted.
• Re-organised the course configuration page layout into categories.
• Teacher Portal - Added settings page for email notifications (new course post, new assignment submission)
• Registration Fees - Per course or per cart setting options
• Library - Search now searches document item title.
• Waiting List - Admin Email Notification.
• Archived courses no longer display in the Teachers Portal.
• Option for discounts to be applicable when buying products for someone else.
• Private Courses - Transportation Fees now has an option to link to a product.
• Improved the UI for students to add additional contacts when ordering a private course (for multiple student packages or when ordering for someone else).
• Occupancy percentage in enrollment stats and course table stats.
• Refactored the Membership and Registration Fee product pages to make it easier to add or edit these products.
• Community Profile - Added Manage Subscription and Membership Card download links.
• Canned Emails - Added Attachments Support.
• Course Selector - Company can now add a contact using company relationship when ordering.
• Private Course Ordering - Improved the display and smoothness of package selection flow.
• Attendance Sheet - Updated printing look and feel.
• Attendance Sheet - Updated to only display custom fields that are marked as Show in Lists
• Student Portal - Improved management of attachments.
Welcoming new Alliance Française to the Oncord Community!
Lastly, but most importantly, we are excited to welcome Alliance Française Oxford, Cambridge, Hamilton and Wellington to the community! It's wonderful to have them onboard with us and we can't wait to see how they grow.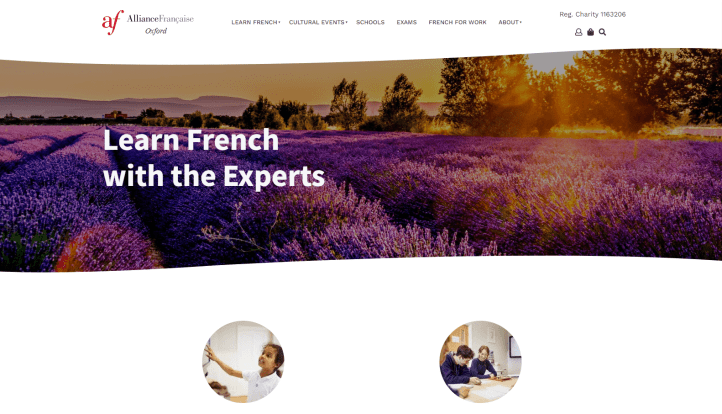 AF Oxford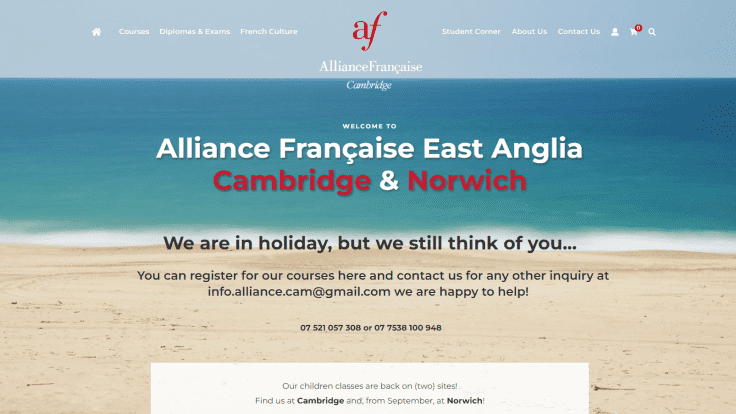 AF Cambridge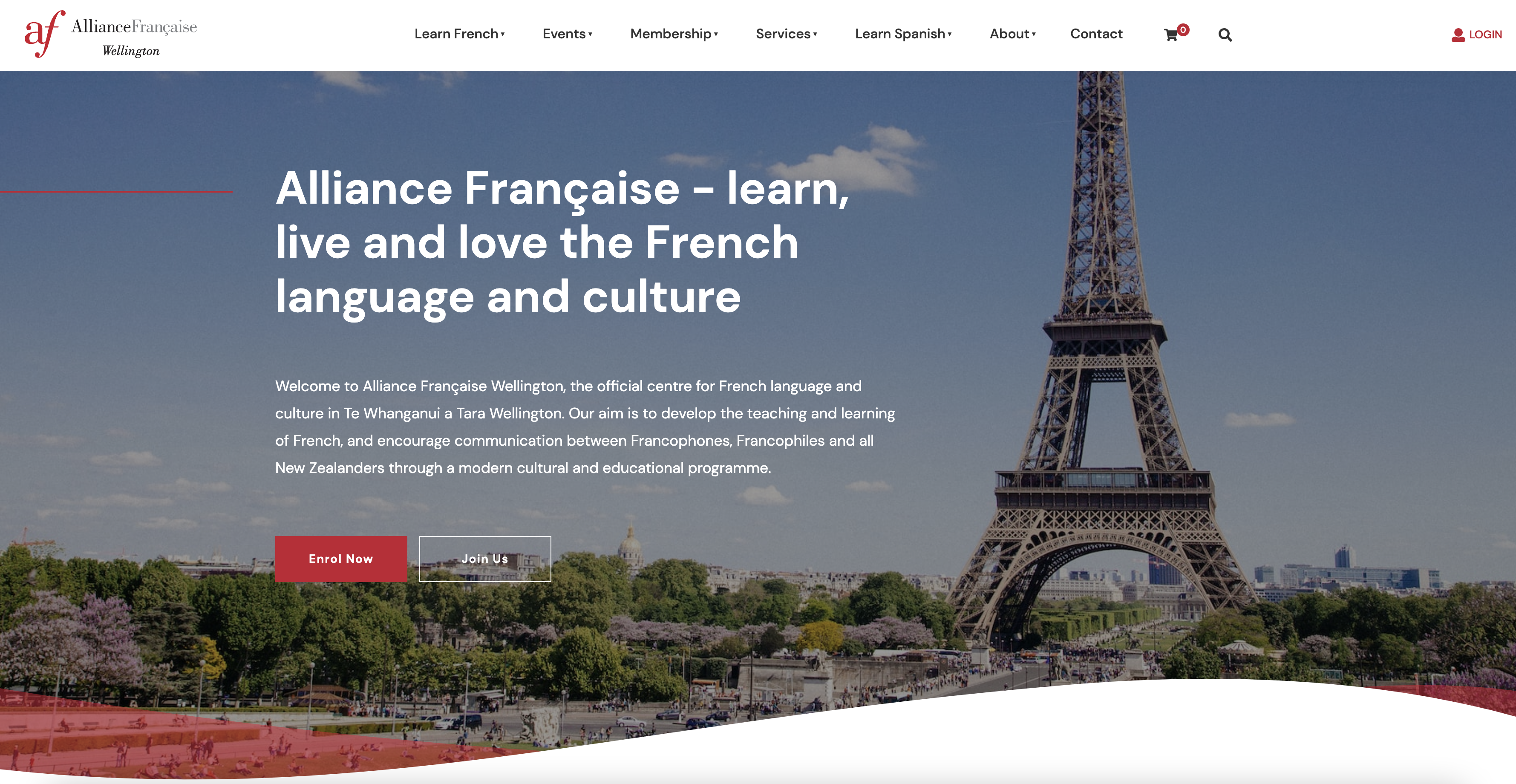 AF Wellington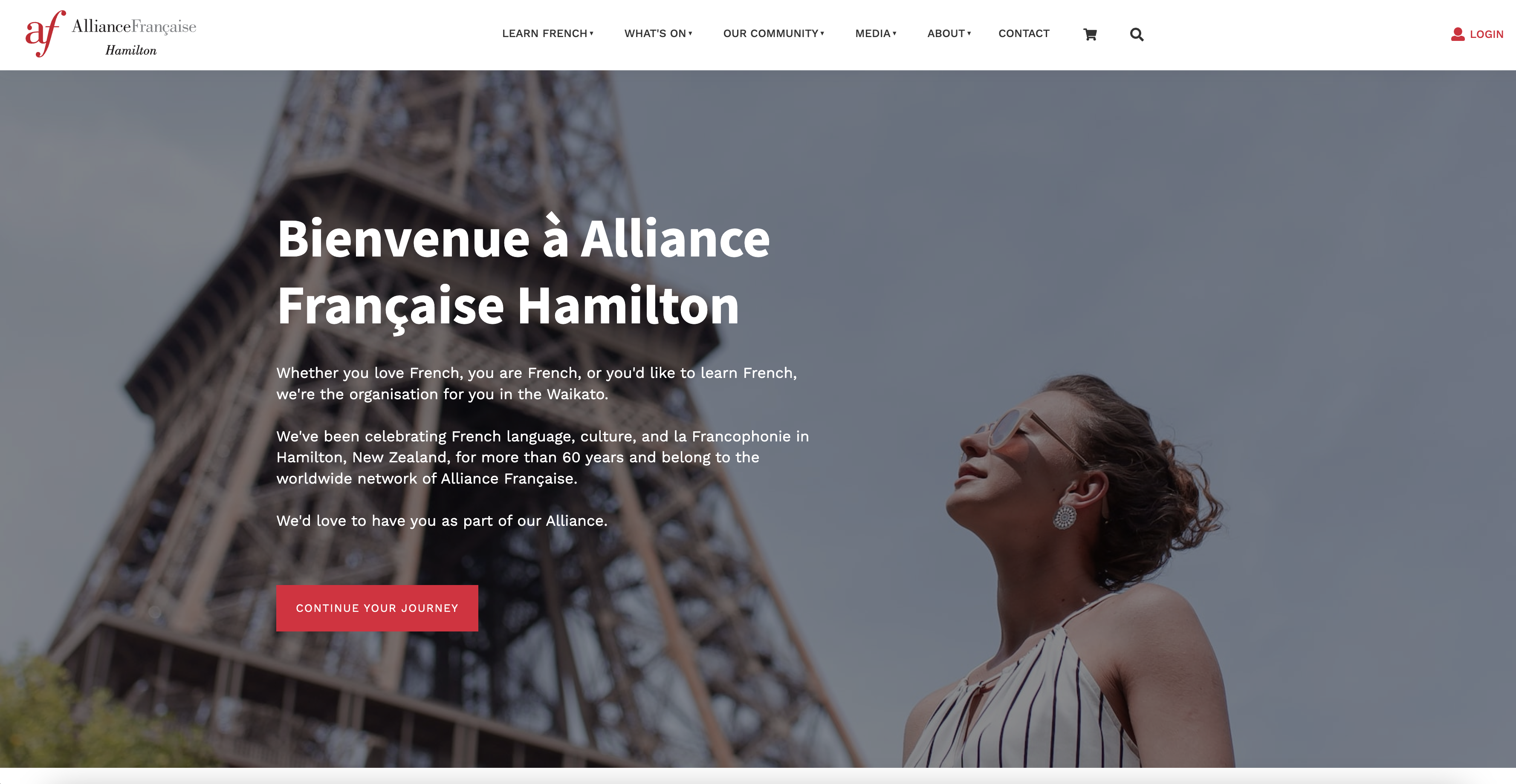 AF Hamilton

We look forward to working with and welcoming more Alliance Française to the community soon.
What's on the way next?
Here's a quick overview of what our development team are working on next:


New UK Server Infrastructure
New Demo Website for AF Modules
Improvements to the Library Automations
Additions to Help Videos and Articles

We are always happy to discuss new features and develops with the Alliance Française community, so please do reach out to us about these and we'll see what we can do!
Don't forget to check our Oncord updates page for new features and developments for the core Oncord features.
VIEW ONCORD PLATFORM UPDATES VIEW ONCORD PLATFORM UPDATES