Private Course Configuration
There are a number of settings that you can modify regarding your private courses. These include:
Modifying the ordering settings.
Controlling what access and management permissions teachers have for private courses.
Sending renewal notification automatic emails.
To get started go to Private Courses > Configuration > Privates Courses.
Ordering Settings
Within the Ordering tab you can:

Prompt students to buy a Membership or Registration Fee (or both) when purchasing a private package.
Set how the system handles Tax Collection on these packages.
Set the display names for the Location Types.


Note: Requirement to purchase a membership and/or registration is set on the private course package. This setting is just a proposal during the ordering process if that package does not have 'Is Required' set. Contacts with an existing membership and/or registration fee won't be required to buy these again.
Teachers' Behaviour
On the Teacher Availability tab, you can control teachers' availabilities for private classes. By default professors are all available unless you click on enable Availabilities.

You can also set permissions for your teachers by clicking on the 'Teacher Portal' tab, these settings control what teachers can manage in relation to private classes within the teacher portal.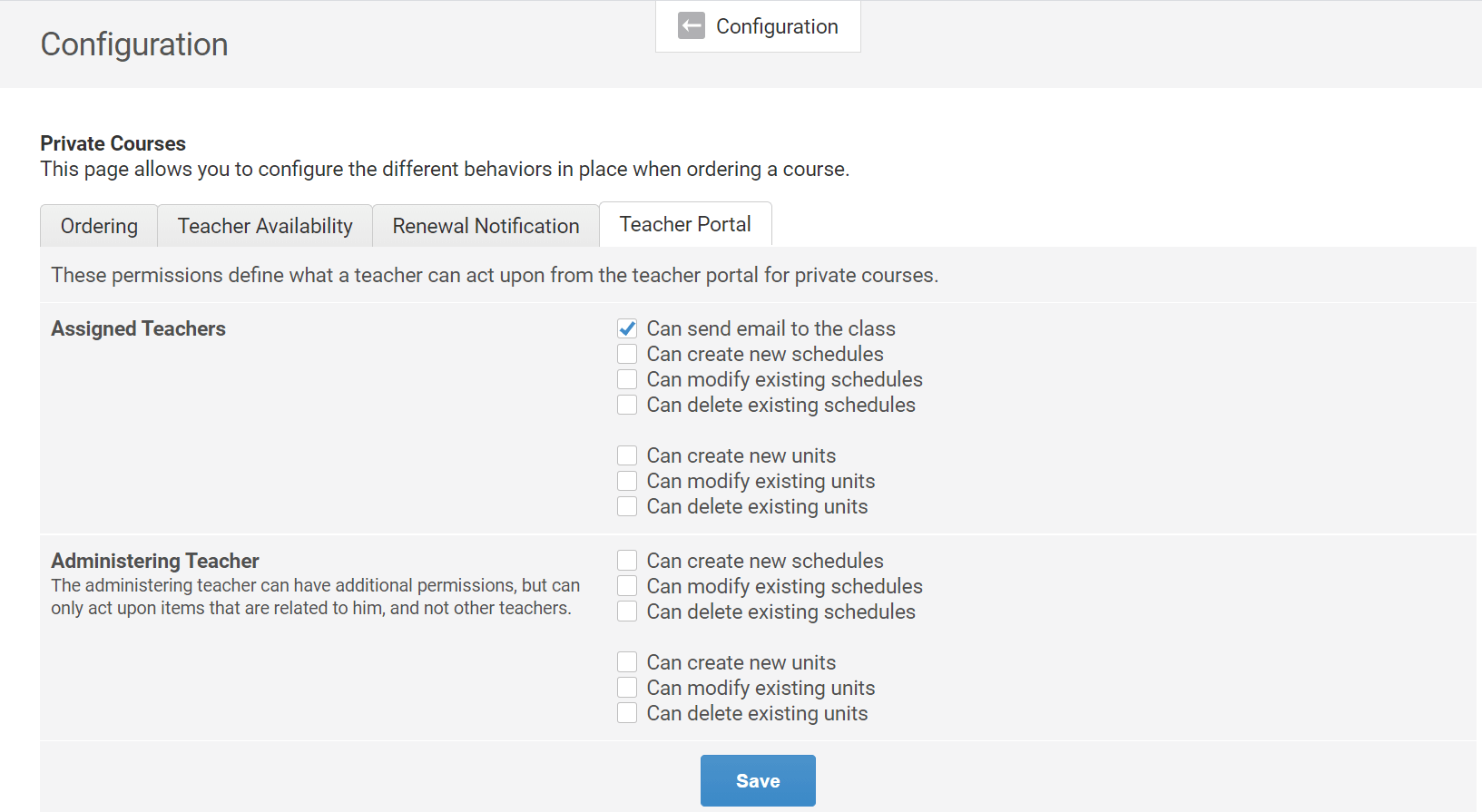 For more information about the Teacher Portal check out our Teachers Portal articles.
Renewal Notification
Finally, in 'Renewal Notification' tab you can set an automatic notification to be sent to students upon reaching a certain threshold for their private tuition package.
In the example below, students will receive a Renewal Notification email when they have 20% of hours remaining.
Clicking on the "Renewal Notification" template will allow you to modify the notification content and style.